Vegan Thanksgiving Recipe Roundup!
Published November 23, 2015
It's the most magical time of the year! Thanksgiving is one of our favorite holidays, you get to spend time with family and loved ones reflecting over all that you're thankful for this year. The best part, however, is all the food!! We know if you're the only vegan in the fam it can be somewhat difficult explaining your dietary needs to Aunt Clara or Uncle Joe, So why not take your meal into your own hands and make your vegan feast yourself? Here's a few of our favorite recipes to get you started.
Start your meal off with a simple appetizer that's a Thanksgiving take on an old classic: Sweet Potato Salad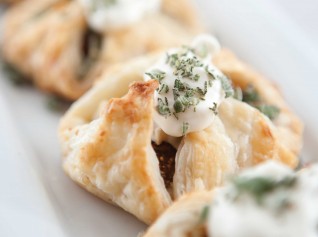 These tarts will bring the taste of fall to your dinner table. This little flavor trio will be sure to be a hit: Pear, Fig and Sage Tart with a Roasted Garlic Aioli
This shepherd's pie is simple and comforting, just like Thanksgiving should be. Thanks to the team @ Des Olives for providing this one! Filled with delicious, colorful veggies, you'll be making this one well beyond Thanksgiving! Vegan Shepherd's Pie
Serve this one up as part of your main course to fill up even the hangriest of family members! The mushrooms add a nice solid texture to this creamy dish: Portobello Mushroom & Tuscan Kale Stroganoff
Lastly, make a dessert so good you'll think it was made by Houdini with how fast it will disappear: Vegan Chocolate Chip Pumpkin Cheesecake
If you need anything else to be thankful for, here are a few coupons to help you make some of these delicious treats!
Wishing you and your family a delicious and Happy Thanksgiving from all of us at Follow Your Heart/Earth Island!