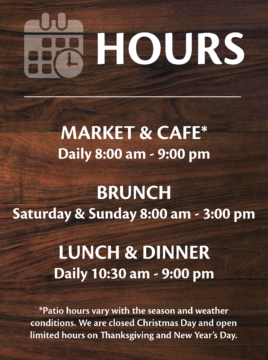 Follow Your Heart Café has a full vegan menu (with limited dairy options) as well as a dedicated "no-Salt, no-Oil, no-Sugar" selection called our SOS menu. Click below to preview our menus:
FYH Menu       SOS Menu       Christmas Pre-Order Menu
The Market
Follow Your Heart Market offers a wide array of unique and specialty vegetarian and vegan foods in our 6500 square foot store. Since our early days, just two blocks from our current location, we've prided ourselves on a distinct selection of local and organic produce, featured independent food brands, and fresh deli items.
We have a full aisle of vitamins and supplements with an on-staff expert who can help you find the right product. Our hand-picked gift section will inspire and entertain you with items made locally as well as from cultural communities around the globe. While you wait for a table, feel free to peruse our hand-picked book corner or decide on a nice Kombucha or cold brew for your meal.
At Follow Your Heart, you can also shop with the environment in mind with our fully-stocked bulk section with grains, flours, and freshly ground coffee– just bring your own container and fill it up. And don't forget that shot of fresh-pressed wheatgrass before you check out!
And we can't forget Follow Your Heart products. The market is your one-stop-shop for ALL our products as we share some samples of new products that we're just trying out.
The Café
What began in 1970 as a seven-seat sandwich and juice bar has evolved into our 67-seat Follow Your Heart Café. The café is tucked away in the back corner of our market, so don't be bashful… come on in. The wooden decor lends itself to the community feeling for which Follow Your Heart® is so famous. You can dine at the counter with our "regulars" or at a table inside or out on the relaxing patio. The counter is an especially unique part of the café experience, and many a friendship has begun as a result of a chance encounter here.
Our home-style comfort food is modestly priced, and the portions are generous, so come hungry. The menu is vegan with select and limited dairy options and we use seasonal and organic ingredients whenever possible. We also offer an exclusively gluten-free menu upon request as well as our No Salt, No Oil, No Sugar (SOS) menu.
In addition to our regular menu, daily specials are served at each meal. Our hearty homemade soups are something that we're particularly known for and several are offered throughout the day. You can also find a deliciously low fat and low sodium soup option. Local and organic wines and craft beers and kombucha are on tap to accompany your meal
We welcome you to come visit and please say hello when you do!
---
Follow Your Heart Community Center
Formerly the 'In The Mudra Dance & Yoga Studio', The Follow Your Heart Center is owned and operated by Follow Your Heart Market & Restaurant, and conveniently located just two doors west of Follow Your Heart towards Topanga Canyon.  The Heart Center is also available for hourly rentals so if you are interested in reserving space, please email heartcenter@followyourheart.com