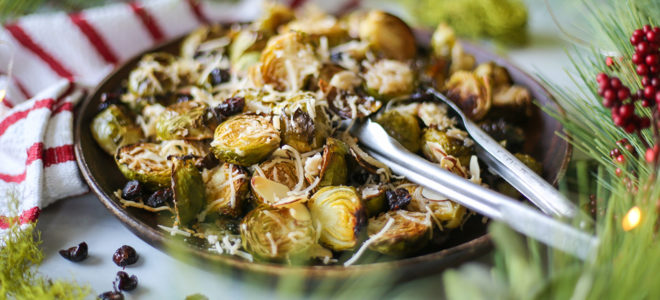 Baked Brussels Sprouts
Recipe Courtesy of: Silvia Nagy-Ryan
Ingredients
5 cups Brussels Sprouts
¼ cup Almond slices
¼ cup Dried cranberries
2 tbsp Olive Oil
Pinch of Salt & Pepper
Instructions
Preheat oven to 400° F.
Wash the brussels sprouts, cut ends off and slice in half. Mix in a bowl with olive oil, salt and pepper.
Pour onto a sheet pan, bake for 25 minutes. Remove from oven and add almond slices, cranberries and Follow Your Heart Parmesan. Bake for another 10 minutes or until golden.
Remove from oven, add extra parmesan and pinch of salt (optional).
Enjoy!