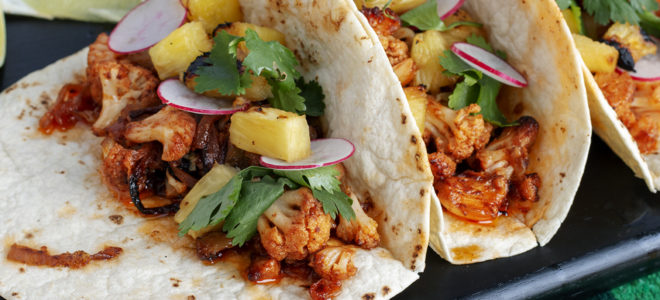 Vegan Cauliflower Al Pastor Tacos
Recipe Courtesy of: Oscar
Ingredients
1 large head cauliflower
3 cloves garlic, smashed
1 medium yellow onion, thinly sliced
2 tbsp pineapple juice
2 tbsp lime juice
black pepper, to taste
2 tsp kosher or sea salt
For tacos
4 taco sized flour tortillas
thinly sliced radish
cilantro
3 pineapple rings
salsa verde, to serve
Directions
Cut cauliflower into florets. Add to a large zipper bag along with garlic, onion, Chipotle Vegenaise, pineapple juice, lime juice, and black pepper. Close ziploc bag up, removing as much oxygen as possible. Massage ingredients around until well-mixed. Let marinade in refrigerator overnight.
Light coals and preheat grill to medium-high heat. Preheat oil in a cast iron skillet on the grill. Add cauliflower mixture, salt, and cook, covered, until browned and onions are caramelized, about 15 minutes. Stir occasionally to ensure nothing sticks to bottom of skillet.
Once cauliflower is lightly charred in spots, remove from grill and set aside. Place pineapple rings on grill and cook until lightly charred and caramelized, about 2-3 minutes per side. Remove from grill and roughly chop.
Heat tortillas on grill until warm, about 1 minute
Serve cauliflower in tortillas topped with pineapple chunks, radish, and cilantro. Add salsa verde to taste, if serving.