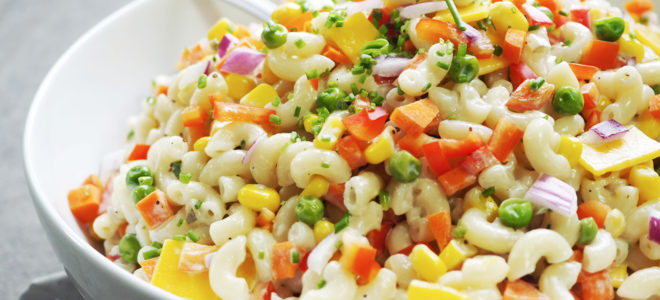 Funfetti Macaroni Salad
Recipe Courtesy of: Spork Foods
Ingredients:
1 package organic macaroni (16 oz)
½ cup frozen peas
¾ cup Original Vegenaise
2 tablespoons champagne or apple cider vinegar
2 teaspoons organic evaporated cane sugar
1 tablespoon Dijon mustard
2 tablespoons sweet pickle relish
½ teaspoon celery seeds
½ teaspoon sea salt, plus to taste
¼ teaspoon finely ground black pepper
2 tablespoon fresh chives, finely chopped, plus for garnish
1 red bell pepper, finely chopped
1 cob yellow corn, kernels removed
1 carrot, finely diced
½ red onion, finely diced
4 slices Follow Your Heart Medium Cheddar or American Slices, large dice
Directions:
Bring salted water to a boil in a 4-quart pot. Add macaroni and cook according to directions. During last minute of cooking, add peas. Drain and set aside to cool.
In a large mixing bowl add Vegenaise, vinegar, sugar, mustard, relish, celery seeds, sea salt, pepper, chives and whisk.
Toss cooked macaroni in bowl and add red bell pepper, corn, carrot, red onion and Follow Your Heart Medium Cheddar or American Slices. Garnish with additional chives, if desired. Serve room temperature or chilled.