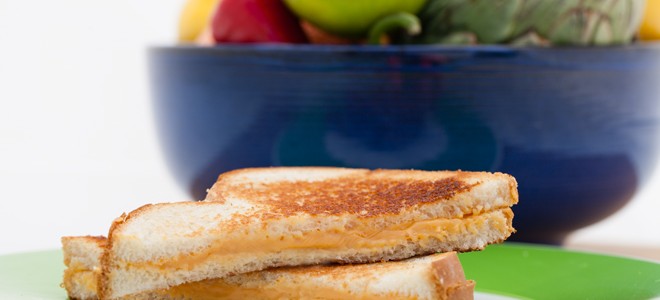 Grilled 'Cheese' with a Twist
Recipe Courtesy of: FYH-Katie
Grilled cheese sandwiches were the very first thing I learned how to cook, which could be the reason why I am still so whole-heartedly addicted to them.  My other addiction is Vegenaise®, and when the new Vegenaise® Gourmet spreads came out, it wasn't long until I put two and two together.  This recipe is absolutely the best when I use the new Vegan Gourmet® Cheddar Shreds – the cheese gets all gooey and delicious just like my very first grilled cheese. 
 For the sandwiches:
2 slices of bread
About 1 ½ Tbsp of Vegenaise

®

Gourmet – enough to coat each slice of bread  (I prefer the Chipotle, Pesto or Roasted Garlic for these sandwiches)
¼ cup Vegan Gourmet

®

Shreds Cheddar
Preheat skillet over medium heat. Generously smear Vegenaise® Gourmet on one side of a slice of bread. Place bread Vegenaise®-side-down onto skillet and add Vegan Gourmet® Shreds on top of bread. Smear Vegenaise® on a second slice of bread on one side and place Vegenaise-side-up on top of sandwich. Grill until lightly browned and cheese begins to melt.  Flip over and continue grilling until cheese is melted and bread is perfectly browned. NOTE: Since the cheese is shredded, the trick is to not flip the sandwich until the cheese has started to melt, otherwise it will spill out – not that it's a bad thing because then you will have little yummy cheese crisps.  Delish!